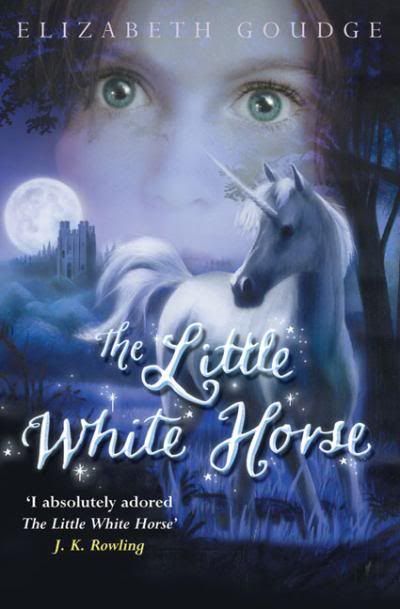 Well, that would be while I was still in school. I had a favorite book as a child called The Little White Horse, by Elizabeth Goudge, who then wrote a number of books for adults. I used to pretend to be sick so I could stay home in bed and read this book over and over and over. It was pretty remarkable, written not long after WWII. A little girl and her desiccated nanny are going to a new place to live, and there's a really wonderful kind of gateway they have to go through, it's like a hole in a cliff and there's a big bluff guy—what it is is a thinly-disguised Brit-loving thing. The man who's head of the household they're going to is obviously John Bull and there's a big dog in the house, but it's a lion, and she sees the little white horse, which has a horn, out of her window, the lion and the unicorn, and then these gypsies, and a stolen pearl necklace, and it's all about reconciling the grown-ups, which tells you another thing about my parents' marriage. (laughter) Anyway, I loved it, and it's full of the porn of food. It was written while rationing still went on, which was well into the 50s, and butter simply drips from every page. (laughter) And I loved it.
That was a big favorite, and I also loved horror comics, until my mother found out where I was buying them, and she told me I was never to go to that drugstore again, and what's more, she went to the drugstore and told them I was not allowed to come in. And to this day, I've been unable to visit that perfectly inoffensive drugstore, which still exists. It's about to close up—not my fault! But I loved them.
Matt Hatch
What's the name of the drugstore?
Harriet McDougal
Well, I don't know the—they know this, and since they're closing up, and feeling blue...they're perfectly nice people. But I did love horror comics. And I borrowed the first Nancy Drew; mother found it and made me take it back; she only wanted me to read Caldecott and Newbery winners. I read a lot of bad Newbery winners.
Matt Hatch
So has your taste changed since then?
Harriet McDougal
Not much, not much. That's why I grew up to edit paperbacks.
Matt Hatch
Today, who do you read when you pick up a book?
Harriet McDougal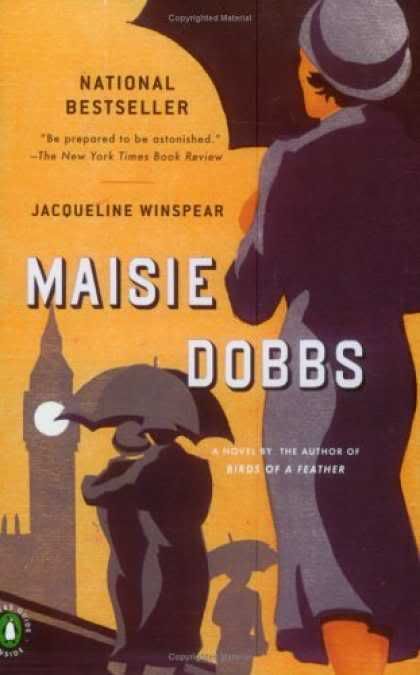 Well, at the moment, I'm fond of Jacqueline Winspear mysteries—they're the Maisie Dobbs mysteries—and she's begun to hit the big time. She's an interesting character; she's a working-class Englishwoman, who saw life as a nurse during WWI, and the books are set between WWI and WWII, which is a period of history I know very little about, and they're fun.
Matt Hatch
Is it the mystery adventure elements that—
Harriet McDougal
It's not particularly—no, it's not adventure; it's figuring out what happened. They're not cosies, exactly, but they're not shoot-em-ups either. Somewhere in between. They're unusual books. I like mysteries, and I've been going through a period of reading oldies. I love Terry Pratchett—I have one with me as a matter of fact.
Matt Hatch
Everyone keeps telling me I need to read them; I just haven't.
Harriet McDougal
Well he's perfectly wonderful, and at times of sadness and trouble, I just think he's a tonic.